Sledding opportunities abound when you visit Lake Tahoe.
Visitors often risk life and limb by stopping along a busy highway when a slope of snow is spotted. This is so very unnecessary. There are a plethora of sledding opportunities available in Lake Tahoe. Plan a day of family fun that will not lead you to the emergency room. Let me help you find a safe place to play in the snow.  Tahoe offers both free and fee friendly sledding options.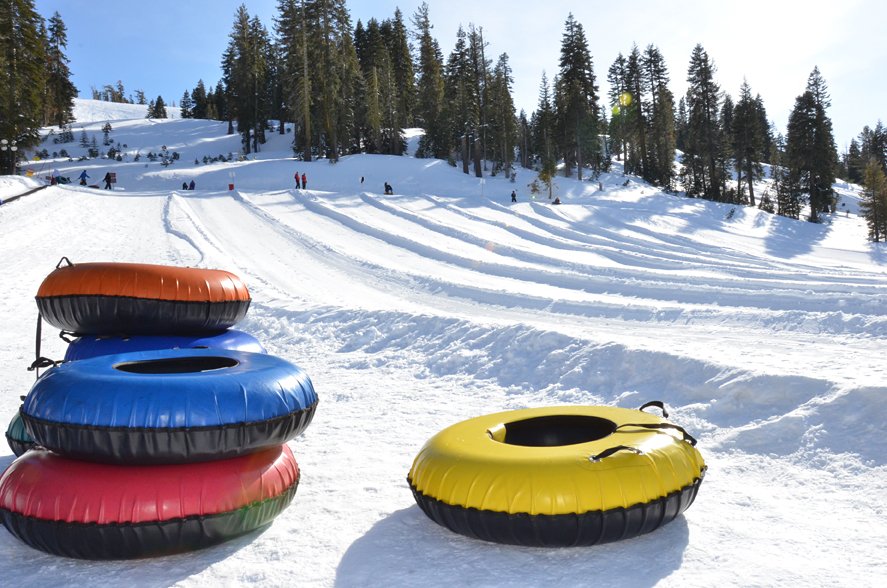 Perhaps the most important factor in a successful day is keeping everyone warm and dry. Learn from a Tahoe local mom, the best ways to keep kids happy and safe during their Tahoe adventure.
Start with a warm base layer. I recommend Kids Hot Chillys for breathable warmth that lasts the entire day. You may want to purchase several sets depending on how long your trip is. These also work great as PJs.
Depend on Smartwool Kids' Wintersport Socks for foot comfort all day. Do not make the mistake of multiple layers of cotton socks. They bunch, let cold air in, and absorb water like a plush towel.
Purchase a pair of snow boots – not rain boots. Your child will probably outgrow them by next season so save yourself some money and purchase a pair at Payless Shoes or Walmart. Avoid boots that secure with Velcro. Once the snow attaches to the Velcro you cannot get them watertight until they thaw out. Splurge on the socks, save on the boots.
Snow pants and jacket are a must. Here again, you do not need to spend a large amount, your local department store sale will be fine. If you are frugal, you can get a pair of pants for about $25 and a jacket for $40. Bib-overall pants work best, especially for small children. The pants will last forever and are prefect for passing down to younger siblings in the future.
Layering is key in the mountains. I recommend a Columbia Fleece Hoodie layered underneath your child's ski jacket. These jackets are a poly-blend, locking in warmth. You will find that kids like to wear these jackets alone as well. It will be their "go to" jacket for the car, in a restaurant, and even when they get back home and want to be cozy warm. These jackets are available for $20 to $40 depending on the age and size of the child.Little hands are the first thing to become intolerably cold.  A good pair of gloves is an important purchase. For toddlers and young elementary children you may want to choose the mitten style. Young children get frustrated trying to get their individual fingers into the gloves. I recommend Andorra Kids' 3M Thinsulate Insulated Ski Gloves. I always keep a pair of fleece gloves on hand for a quick warm up when the fun is done. You can find these fleece gloves at any department store priced at about $10.
Any local mother will tell you that helmets are a must. Most fee locations will rent you a helmet for the day. If you prefer, you can purchase a helmet made for skiing, tubing, and riding. Skateboarding helmets provide the same protection in the snow, but are not very warm. If you choose to use a skateboarding helmet, pair it with a fleece beanie for warmth. I recommend the Helmet Liner Skull Cap Beanie with Ear Covers by Tough Headwear.
Fee Friendly
Adventure Mountain at the top of Echo Summit offers groomed sledding runs, sled & tube rental, snow play, sledding and tubing, snowshoe trails and rentals, and dining in The Lodge with store, cafe, and rental center! This is the perfect place for those who want to show up and pay for someone else to do all the work. Bring $35/$45 cash for each vehicle you choose to park.
Once in the Park, you can use Visa for your other purchases. Sleds will run you $18 for the day, inner tubes are $45 for the day and helmets are $8 for the day. Please make your children wear a helmet and you should as well. You may purchase your equipment if you prefer. Snacks and meals are available for purchase or you may bring your food and "picnic" throughout the day.
Adventure Mountain is located on Echo Summit at the top of Highway 50.
Boreal's Tahoe Tubing is a children's snow tubing park designed for the entire family. Playland offers groomed tubing lanes, moving carpet and quality tubes, with access to all the amenities of Boreal Mountain Resort. All-day tubing access  and  90 minute sessions are available for purchase for individuals 42 inches and taller.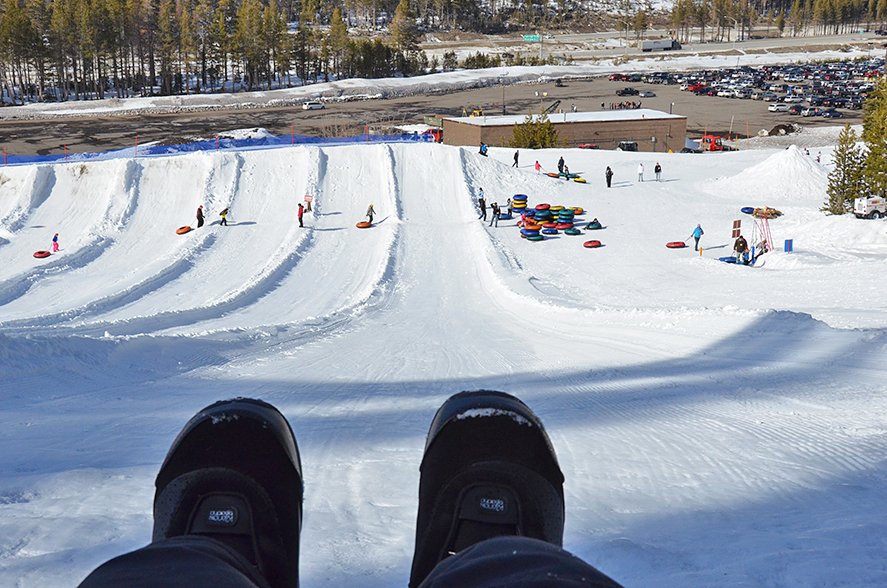 Located off Hwy. 80 about a 35 minute drive from North Lake Tahoe you at 19749 Boreal Ridge Road, Soda Springs, California.
Hansen's Resort offers sledding and lodging right in the heart of South Lake Tahoe. Located on Ski Run at the Base of Heavenly Ski Resort, Hansen's Resort provides the old Tahoe feel and hospitality it is famous for.  Sledding prices run about $20 an hour  (cash only) with discounts provided to those billeted at the resort.
Hansen's Resort is located at 1360 Ski Run Boulevard, just 11 block from Highway 50 in South Lake Tahoe, CA.
Blizzard Mountain offers "two lift-accessible snow tubing lanes, an expanded snow play and sledding area that allows little (and big) ones to explore the winter outdoors at their own pace, and visits from Ralston the snow bear all make Blizzard Mountain one of the most entertaining spots to spend an afternoon at the mountain." Two hours of tubing fun will cost you $30-$40 per person. You will also have access to all the amenities that Sierra-at-Tahoe has to offer.
Sierra-at-Tahoe is located a t 1111 Sierra at Tahoe Road, Twin Bridges, California on Highway 50 on the west side of Echo Summit.
Heavenly Mountain Adventure Peak tubing runs are designed for the true daredevil in each of us. Named the "#1 Snow Tubing Hill" in the country by Fox News, this ride is for the serious outdoor adventurer. Four lanes, a 65 foot drop and open year round, you will not find a bigger adrenaline rush delivered by an inner tube hill. Kids must be 42 inches to ride. Tubing at Heavenly will cost you $41 an hour. Young children will enjoy the mini-tubing hill adjacent to the main hill in Adventure peak, for $29 per hour.
Heavenly Ski Resort is located on Highway 50 in South Lake Tahoe just south of the Nevada State line.
North Tahoe Regional Park offers snow play and sledding for children and adults. A popular wintertime Park activity is the children's sled hill at the park entrance. Through a partnership with North Tahoe Winter Adventures, you can ride the adult sledding hill or rent a snowmobile. A concession stand is also provided for your dining pleasure. Visit the park's Facebook page for seasonal updates.
North Tahoe Regional Park is located at 6600 Donner Road in Tahoe Vista, California.
Free
Sawmill Pond is a favorite spot for fishing in the summer and sledding in the winter. Slopes are gradual, perfect for the first time sledding experience and for young children. There is plenty of parking in the lot off of Sawmill Road, just past the pond. There are benches and picnic tables and a vault toilet restroom.
Sawmill Pond is located 2.5 miles west of the "Y" intersection (Hwy 89, Hwy 50 and Lake Tahoe Blvd.) on the Corner of Sawmill Road and Lake Tahoe Blvd.
Kahle Park is a great location to take children for the full park experience. Snow men are a popular theme at Kahle, where kids can enjoy the children's playground, indoor climbing wall and jungle gym. Parents will appreciate the indoor bathroom facilities, full exercise gym and ¼ mile running track. Parking is safe, plentiful and free. There is a small fee to use the indoor playground and gym. All outdoor activities are free as well.
To get there go out of California into Nevada on Highway 50 about one mile to Kahle Road. (There is a signal light at Kahle Road. If you get to Safeway, you have gone too far.) Take a right on Kahle Road until you land in the parking lot. Enjoy yourself!
Spooner Summit Slide Park is a "side-of –the-road" sledding option that is safer than most. There is a small area at the junction of Highway 50 and Highway 28 to park your vehicle.  If you are coming from Carson City this would be your closest free sledding park. This area is not great for younger children but offers some fun sledding opportunities for older children and adults.
You can reach Spooner Summit Slide Park from the South Lake Tahoe by taking Hwy 50 north or from Incline Village by taking Highway 28 south. From Carson City, take Highway 50 west. The park is located at the corner of Highway 50 and Highway 28.
Taylor Creek Sno-Park is a great choice for families with toddlers and younger first time snow enthusiasts. Taylor Creek is a forest service location with plenty of safe parking but several of sledding options. If you would like to try cross country skiing, snow shoeing or snow man building, Taylor Creek is your place. Taylor Creek loves dogs, so bring them along to romp in the snow. This location is usually very busy, so plan ahead and enjoy the crowds.
Taylor creek is located on Highway 89 about 5 miles north of the "y" in South Lake Tahoe.
Hidden gems
Zephyr Cove Park is right off Highway 50 and open to the public free of charge. There is an enormous amount of safe parking. Children can create sled runs to their hearts content. Zephyr Cove Park is home of the local library, tennis courts, disc golf course, soccer and softball fields. There is a children's playground and a large selection of picnic spots.  Bring a picnic lunch and appreciate a snow day with the family. Feeling like a hot meal instead? Enjoy a cozy meal by the fire at the Zephyr Cove Lodge restaurant directly across the street from the park.
Zephyr Cove Park is located 4.6 miles from the California/Nevada state line, in Nevada. Travel north from South Lake Tahoe on highway 50 for 4.6 miles. You will see Zephyr Cove Resort and Beach on your left. Take the next right (at the fire house) onto Warrior Way. You will see an elementary school on your left and the park facilities on your right. If you turn right immediately on Warrior Way you can park in the rear by the Playground, picnic areas, and disc golf course. If you take the second right, you can park by the library, tennis courts and softball/soccer field.
Tahoe Rim Trail Kingsbury North Trailhead is an excellent place to take children and adults of all ages. Located at one of the entrances to US Forestry land, the space is wide open offering a multitude of sledding, tubing and riding options. Bring your thermos of hot chocolate, a couple of camping chairs and your digital camera to capture the photos of a lifetime. There are no amenities so you will need to bring all your own toys and snacks. This location is not frequented by many tourists, so enjoy the serenity.
You will find this spot at the end of Andria Lane. Travel North on Highway 50 out of South Lake Tahoe into Nevada. Take a right on Kingsbury Grade/SR 207. About ¼ mile before you get to the summit, take a left on North Benjamin lane. North Benjamin becomes Andria after a couple blocks. You will be traveling through a neighborhood. Do not worry, you are going the right way. When you get to the end of Andria Lane you have arrived. Enjoy the forest and be sure to bring back with you everything that you brought in.
Save
Save
Save
Save
Save
Save
Save
Save
Save
Save
Save
Save
Save
Save
Save
Save